In a one of our subscriber webinars, Crucial Sales Ops Concepts, we covered 15 key concepts that can have tremendous influence on a Sales Ops team's effectiveness, performance, and contribution.
But even though we ran well past the scheduled hour, we should have spent a little more time clarifying the explanation behind one concept…because it might have seemed a bit negative or snarky at first blush.
The concept in question involves recognizing that salespeople can't analyze data, won't analyze data, and shouldn't be expected to analyze data. And therefore, Sales Ops should perform as much of the analysis as possible and strive to deliver the resulting answers and conclusions.
As for the snark…
Are we saying that salespeople are too dumb to analyze data? Are we suggesting that salespeople are too lazy to analyze data? Not at all. We're simply saying that it's crucial to acknowledge that salespeople…in general…are not analytical people.
That's not good or bad…better or worse…it's just different.
Different types of people have different aptitudes and inclinations. And as a result, they gravitate toward different careers and organizational roles. Relationship people tend to gravitate toward careers in sales, marketing, communications, etc. Analytical people, on the other hand, tend to gravitate toward careers in accounting, engineering, product management, operations, and so on.
Now…think about turning your accountants into salespeople. Odds are, they wouldn't want to do it, right? Odds are, they wouldn't like doing it, right? Odds are, they wouldn't be very good at it, right? And odds are, you'd get fired for doing something as silly as expecting accountants to be salespeople.
Similarly, you shouldn't expect salespeople to be data analysts. They have neither the inclination nor the aptitude for slicing-and-dicing a bunch of numbers, looking for actionable insights, and interpreting what the underlying data is really saying.
That's not bad, negative, or snarky…it's just reality. And the sooner you acknowledge that reality and begin to deliver answers instead of data, the sooner you'll see more significant results.
Crucial Sales Operations Concepts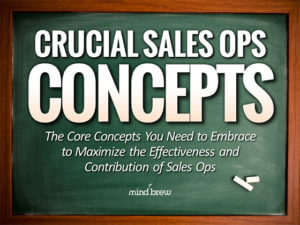 What sets a great Sales Ops team apart often comes down the core concepts and principles they embrace. In this on-demand webinar, you'll learn about 15 fundamental concepts that every Sales Ops leader and practitioner needs to understand inside and out.
Delivering Answers to the Point of Sale
Our latest research has shown that more data and tools for the field won't improve results. This tutorial reveals a more effective approach for getting salespeople to use data and analytics to make better decisions.
How to Use Sales Analysis to Drive More Growth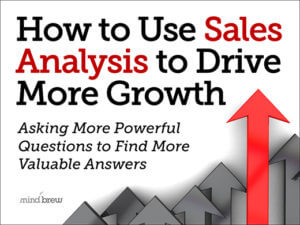 Sales analysis often has much more potential than it is given credit for. This on-demand webinar explains how to using the analytical processes and underlying data to reveal powerful insights and opportunities for growth.