Here are Some of The Many Resources In The Library
Avoiding Five Margin-Killing MarCom Mistakes
Your marketing materials are often the first things prospect see. Learn how to identify and avoid five marketing communication mistakes that can damage your value before the sales rep even get a chance.
Can You Benefit from Better Deal Management?
Some companies close deals rapidly at the expense of margins and profit. Other companies protect margins and control discounting at the expense of cycle-time and close-rates. In this guide, you'll learn how leading companies are able to achieve the best of both worlds.
Exposing Your Differential Value Step-by-Step
From our best practice research, we've cut through the complexity of value-based selling to provide a simplified, step-by-step tutorial for understanding and exposing the differential value of your offerings.
17 Insights That Improve Close-Rates & Margins
The more your team knows about how your prospects perceive the marketplace, the better the chances are for success. This guide provides the key prospect insights that can improve close-rates, margins, and long-term customer values.
Tweaking Your Sales Strategy to Improve Margins
A well thought-out strategy can reduce pricing pressure and increase deal velocity. Learn how relatively small adjustments to your sales strategy in a few high-leverage areas can combine and compound to produce dramatic results.
Finding Margin Leaks in Your Sales Processes
Of course, every sale is the result of a process. And with any process, the quality of the final product is influenced by the raw materials. This diagnostic helps improve revenues and margins by identifying the root-causes of erosion in your sales processes.
Step-by-Step Competitive Analysis for Strategic Selling
How to use competitive analysis to identify actionable opportunities to gain strategic advantage, expose competitive gaps, provide differentiation beyond price, and reduce competitive pressures.
How to Improve Internal Deal Negotiations
The most costly deal negotiations often take place within the confines of our own organizations. In this guide, you'll learn the top 10 strategies for negotiating better deal outcomes with others inside your company.
Shift Your Customer Mix to Improve Performance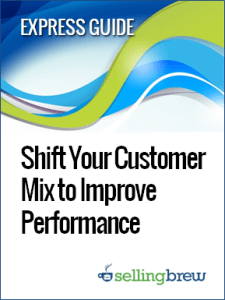 In this video session, learn how to go about shifting the mix of customers you sell to on a regular basis to improve revenues, margins, close rates, and repeat sales…all at the same time
Three Buyers That Don't Buy On Price
If you lower your price, will you have a better chance of winning? Learn how to identify the buyers where additional discounts don't matter...and those that are secretly willing to pay more.
Developing Prescriptive Account Plans
Learn a powerful 7-step process for growing sales from your existing customers. See how to identify exactly where growth opportunities are and create the account plans that will capture them.
How to Stop Losing Sales to "No Decision"
For many companies, the biggest competitor they have to contend with is "no decision." In this tutorial, learn strategies and tactics for addressing the real root-causes behind prospect inaction.
The Ugly Truth About Lead Generation ROI
Very often in business, the truth behind problems runs counter to what the people in charge actually believe. This entertaining case study reveals the true root-causes behind one company's "failing" lead generation programs.
Onboarding New Sales Reps for Success
Bringing a new sales rep onto your team can be a very expensive and risky proposition. And many common onboarding strategies can make things worse instead of better. This guide exposes 10 best practices our research team has found to be most effective.
Preventing Bad Deals Before They Happen
After-the-fact corrective actions will do little to prevent the bad deals from happening again. Stop treating the symptoms. This diagnostic shows how to identify and correct the underlying root-causes of problems and issues.