Here are Some of The Many Resources In The Library
Suffering from a Bad Case of Sticker Shock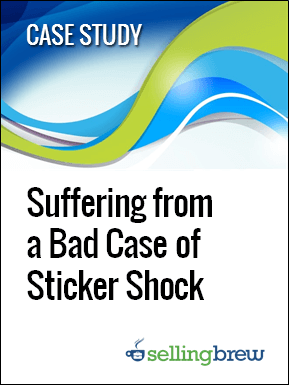 In B2B environments where discounting is habitual, it's easy to think that your list prices don't really matter all that much. But before you conclude that list prices are inconsequential in your business, consider this case of a B2B reseller who just couldn't see what they were missing.
Shift Your Customer Mix to Improve Performance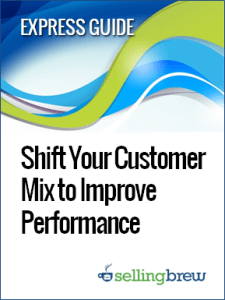 In this video session, learn how to go about shifting the mix of customers you sell to on a regular basis to improve revenues, margins, close rates, and repeat sales…all at the same time
Tweaking Your Sales Strategy to Improve Margins
A well thought-out strategy can reduce pricing pressure and increase deal velocity. Learn how relatively small adjustments to your sales strategy in a few high-leverage areas can combine and compound to produce dramatic results.
The Pitfalls of Sales and Marketing Alignment
Sales and marketing alignment can sometimes do more harm than good. These real-world case studies expose the costly downsides of alignment and reveal the mindset that's often more effective to adopt.
Seven Signs Your Sales Team Needs Better Guidance
How do you know whether or not the data-driven guidance you're providing to your sales team is as good as it could be...and as good as it really needs to be? In this diagnostic, learn about seven tell-tale signs that your guidance may not be up to par.
Igniting Revenue Operations for Growth
In this Express Guide by Alexander Group, learn how growth companies are evolving Sales Operations into the emerging field of Revenue Operations (RevOps), which is taking on broader responsibilities.
Combating Competitive Pricing Pressure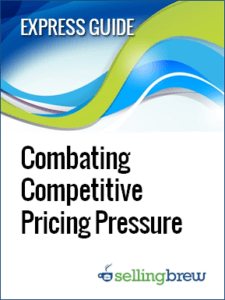 Pricing pressure is just a fact of life. But how well you handle that pressure can determine whether your business ultimately succeeds or fails. This guide exposes 15 ways to address (and prepare for) competitive pricing pressure.
Using Peer Pressure To Improve Your Margins
Fixing poor pricing and discounting practices can seem futile. And playing bad cop isn't much fun. This tutorial shows you how to build a "system of influence" that gets your salespeople to police their own pricing and discounting behaviors.
Seven Building Blocks of Sales Effectiveness
In sales, it can be challenging to know where to focus your attention and resources. This guide provides a framework of the seven areas where improvements have the most impact on close rates, cycle times, deal sizes, and margins.
Selling Value More Confidently in Seven Steps
Salespeople need to be confident in themselves and in the value of the offerings they're representing. This tutorial helps you give your sales team the confidence they need to sell effectively while maximizing revenue and margin.
Assessing Core Sales Skills in the Hiring Process
Relying on first-impressions, intuition, and gut-feel is just too risky when hiring salespeople today. This guide explores new options for infusing more objectivity and science into the process of finding good salespeople.
How to Avoid Guesswork in Value-Based Selling
Scratch the surface of many value-based initiatives today and you'll find a whole lot of guesswork. In this tutorial, learn the two step process for making your value-based efforts more accurate and effective.
Can You Benefit from Better Deal Management?
Some companies close deals rapidly at the expense of margins and profit. Other companies protect margins and control discounting at the expense of cycle-time and close-rates. In this guide, you'll learn how leading companies are able to achieve the best of both worlds.
Crafting Effective Strategic Value Messages
This tutorial shows you how to get beyond the platitudes and develop compelling messages that highlight your differential value.
Delivering Answers to the Point of Sale
Our latest research has shown that more data and tools for the field won't improve results. This tutorial reveals a more effective approach for getting salespeople to use data and analytics to make better decisions.