Remember when "big data" dominated the buzzword bingo lexicon?
At the time, you needed hip waders just to cross the torrent of hype surrounding the concept. And if you did manage to reach the other side, you quickly discovered that without some effective and scalable means of consuming and interpreting all of it, your "big data" was just something to talk about in meetings.
As a result, the conversation shifted to artificial intelligence.
While not technically accurate, the term "artificial intelligence" seems to have become a sort of umbrella descriptor for a variety of techniques, processes, and technologies that automatically extract actionable insights from big data.
If your "big data" is the sandy beach where pirate treasure is buried, then "artificial intelligence" is the metal detector you'd use to pinpoint the gold.
What does the gold look like for sale operations?
In a SellingBrew Playbook interview, Barrett Thompson and Maria Carballosa reveal how a number of sales operations are currently leveraging artificial intelligence to analyze their data and automatically identify:
Customers showing early signs of defection or attrition
Customers who can buy more of whatever they're buying
Customers who can buy additional categories or lines
And in the same way that pirate treasure will have both intrinsic and historical value, actionable insights like these are also valuable in multiple ways…
Of course, there's the revenue and profit associated with the wallet-share you'll retain over time and the additional "whitespace" sales you'll capture. But you're also gaining a lot of efficiency by aiming your sales team at the opportunities with the highest values and probabilities.
In other words, there's a lot of value in not having to dig up the entire beach each and every quarter!
In a very real sense, artificial intelligence solutions are now providing what always seemed to be missing in the original promise of big data. For Sales Ops, artificial intelligence transforms the rather nebulous concept of big data into tangible, actionable, and results-oriented operational solutions.
I encourage you to listen to the interview with Barrett and Maria. Of course, you'll learn a lot about how artificial intelligence solutions do their thing. But if you're paying attention, you'll also recognize that they're talking about real sales operations…using artificial intelligence right now…to generate real results.
So this stuff isn't theoretical or aspirational—for Sales Ops, artificial intelligence has arrived and it's the real deal.
Where To Find 36% More Revenue
New research shows that even the best-run companies have huge pockets of revenue and profit they just can't see. In this Expert Interview, we discuss what leading companies are doing to capture these "hidden" opportunities.
Predictive Sales Analytics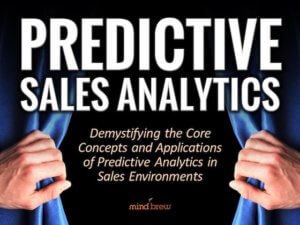 Predictive sales analytics has proven to be a powerful tool for improving effectiveness and boosting results at-scale. In this on-demand webinar, we demystify the core concepts and applications in sales environments.
How to Maximize Cross-Selling and Up-Selling
Effective cross-selling and up-selling requires operational solutions that only Sales Ops can deliver. In this on-demand webinar, learn how some innovative groups are making happen---efficiently, effectively, and very profitably