We often highlight how Sales Ops groups can increase their leverage by focusing much more attention on sales managers. Simply put, focusing more of Sales Ops' limited resources and time on enabling 40 sales managers will almost always produce more "bang for the buck" than spreading a thin veneer of attention across 400 individual sales reps.
But while the basic concept is very straightforward, assumptions and projections can sometimes get in the way of effective execution…
It's easy for Sales Ops teams to assume that because sales managers have a vested interest in performance improvement at-scale that they must have…or should have…the skills and knowledge to actually make it happen. It's easy to think that because sales managers are responsible and accountable for a big part of the "sales machine" that they must be…or should be…much more process-oriented and proficient in data analysis than a typical sales rep.
While there are certainly exceptions, these types of assumptions tend to belie the reality of the situation in most cases. Consider these candid observations from The Sales Ops Guide to Enabling Sales Managers:
Virtually every sales manager will have spent a number of years in the field as an individual salesperson.
In all likelihood, they got into sales in the first place because they were "relationship" people by nature.
Very often, it was their skill and performance as a salesperson that elevated them to a managerial role
When you put these things together, you very quickly realize that a typical sales manager is not likely to be any more analytical or process-oriented than a typical sales rep. And given their personal backgrounds and career paths, it should come as no surprise that they tend identify most closely with individual reps and will often struggle to see "the system" as a whole.
Now, you could argue…and many do…that it should be different. You could make a good case that sales managers in this day and age should be very analytical, data-driven, and process-oriented. And you could say that sales managers today should have a systems view of the function, rather than seeing it as a collection of reps.
But "what should be" and "what is" are two very different things. And to be most effective, you need to design your enablement efforts around the latter.
The Sales Ops Guide to Enabling Sales Managers
Sales managers are critical points of leverage and enablement. In this on-demand webinar, learn a variety of strategies and tactics that others have used to influence sales managers and drive performance improvements at-scale.
Delivering Answers to the Point of Sale
Our latest research has shown that more data and tools for the field won't improve results. This tutorial reveals a more effective approach for getting salespeople to use data and analytics to make better decisions.
How to Use Sales Analysis to Drive More Growth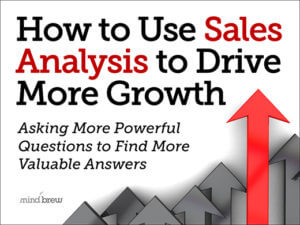 Sales analysis often has much more potential than it is given credit for. This on-demand webinar explains how to using the analytical processes and underlying data to reveal powerful insights and opportunities for growth.