Combating Competitive Pricing Pressure
Pricing pressure is just a fact of life. But how well you handle that pressure can determine whether your business ultimately succeeds or fails. So what are the strategic moves that you can be making to minimize competitive pricing pressure? This guide exposes 15 proactive approaches you can take.
The four common responses to competitive pricing pressure--and why one is far superior to the others.
The kinds of trends you should be monitoring that could affect pricing in your market.
The steps you can take to uncover the strategic motivations and likely behaviors your competitors will take.
Why you should be aware of the "hidden" price signals being sent to customers and competitors.
This guide is just one of hundreds of educational resources you get access to as a SellingBrew Playbook subscriber.
More Subscriber-Only Resources From Our Library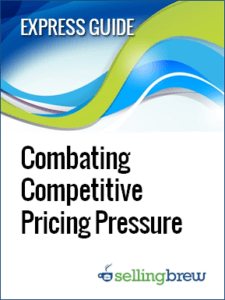 Why Subscribe?
When you join your peers and become a SellingBrew Playbook subscriber, you get immediate access to this guide as well as all of these other features:
Training Webinars

Dozens of on-demand webinars covering crucial sales ops topics with new webinars every few weeks

On-Demand Library

A searchable library of hundreds of concise guides, tutorials, cases, assessments, and research reports

Expert Interviews

Learn from others in sales who've "Been There and Done That" through our Expert Interview Series

Help Desk

Ask our team of analysts for advice, insights, and perspectives on your specific sales ops challenges
Come Join Our Next Webinar
Managing Successful Sales Ops Projects
Strategies that Minimize Risk and Maximize Success for Sales Ops Initiatives