People from many different walks of life have offered their opinions on the most important questions in life.
For example, scientist Albert Einstein said the most important question is "Is the universe a friendly place?"
Late-night talk show host Johnny Carson thought the most important question was "Are you ready?"
Historian and author Yuval Noah Harari wanted to know "What should we do with all the superfluous people, once we have highly intelligent non-conscious algorithms that can do almost everything better than humans?"
Novelist and poet Alice Walker said the most important question is "Why is the child crying?"
Actor Tommy Lee Jones said it's "When is lunch?" But another actor, Marlon Brandon, took a deeper perspective, saying the most important question is "Do you really know what you know?"
And for Amazon's Jeff Bezos, the most important question is "Is my mission improving the world?"
We're not sure if any of those people are right about the most important question in life (though we do like the idea that lunch should be pretty high on the list). However, we are pretty confident that we know the most important questions in sales ops.
As you've probably gathered by now, here at SellingBrew we're passionate about sales ops because it's so perfectly positioned to help a company grow. True, the function sometimes gets saddled with a lot of tactical to-dos, and we do need to struggle constantly against that tendency. But sales ops also sits at the nexus of the information, tools, and skills that can make a huge difference in the company's success.
We've found that if you want to realize the full potential of the sales ops function, you need to focus on five key questions:
Where can we make more money?
Which customers should we target?
Where do we have the advantage?
Where can more growth come from?
Which offerings should we focus on?
These questions not only help improve the company's bottom line, they also prove the value of sales ops over and over again. Strategic sales ops teams ask themselves these questions constantly because the answers often change over time. Some successful teams choose to focus on one question at a time, while other have a formal process where they analyze all five once a quarter. The important thing is that these questions are shaping their thought processes and activities on a daily basis.
If you aren't currently focusing on these questions, read through our guide Driving Strategic Decisions with Sales Analytics, which covers these questions — and their importance — in greater depth. You should also check out our webinars Demonstrating the Value of Sales Operations and Exceptional Sales Ops Teams. Both explain how developing a more strategic approach can help your team add value — and prove your worth — to the company.
And while that might not be the most important thing in life, it's pretty important for your career.
Driving Strategic Decisions with Sales Analytics
In this guide, you'll learn how to look at sales performance in a different way, use sales analytics to answer much more powerful questions; and identify your company's real strategic "sweet spot" in the marketplace.
Demonstrating the Value of Sales Operations
As a relative newcomer on the corporate landscape, Sales Ops often struggles to secure resources and investment. In this on-demand webinar, learn about quantifying and communicating the impact and contribution of your Sales Operations team.
Exceptional Sales Ops Teams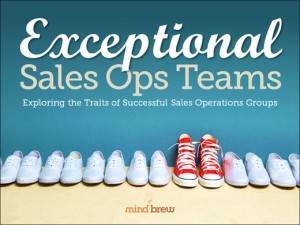 Sales Ops is still evolving and there are no long-standing rules for how everything should work. But there's a lot to learn from teams with a track record of success. In this on-demand webinar, we explore the common traits and mindsets of successful Sales Operations groups.