I must confess that I've always thought of incentives and rewards as just different words to describe the same thing. But in a interview with Giles House, I learned that they aren't the same thing at all. And it's not just a matter of semantics or nuance, either—because the differences have meaningful implications in a sales environment.
Here's what he said that really changed my thinking:
If you're not showing people in real time how they're performing and using the incentives to drive performance, to drive outcomes, then you're not actually paying for performance, you're just giving somebody a check once they've done something. You're rewarding them. You're giving them a pat on the back, which is important, but it's missing the point of it.
I hadn't thought of it this way before, but it makes a ton of sense. Basically, an incentive will influence decisions or behaviors before or at the time those decisions are being made or those actions are being taken. On the other hand, a reward only comes into play after the fact and may have much less influence in the moment.
In this way, we can assume that we have sales incentives when we actually have nothing more than sales rewards.
It seems to me that the critical distinction is whether or not the salesperson actually knows how their compensation is going to be affected by the decisions they're making, as they're making them. Do they know how their compensation is going to be affected by the actions they're taking, as they're taking them? And do they know how alternative decisions and actions will affect their compensation at the moment of choice?
If the answer is yes, that's an incentive. But if they really don't know…or just have some vague idea about what they might be getting when all is said and done…that's more of a reward than an incentive.
Providing after-the-fact rewards or pats on the back for a job well done are certainly important. But to change, influence, or shape behavior at the critical decision points that really matter, you need real incentives—not rewards masquerading as incentives.
Improving Sales Compensation to Boost Results
It's hard to devise a comp plan that nails the objectives without a bunch of unintended consequences. In this webinar, learn about strategies and tactics for more effective sales incentives and compensation plans.
How to Avoid Sales Compensation Gotchas
No variable compensation approach is ever going to be perfect, but you stand a much better chance if you're aware of the potential hurdles. This guide exposes the problems with various compensation schemes and explores potential solutions.
Designing Sales Comp Plans That Actually Work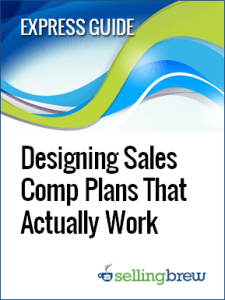 For driving salesperson behavior, your sales comp plan is one of the most powerful tools at your disposal. But any incentive you offer can have disastrous unintended consequences. In this guide, learn about four pitfalls to avoid and ten things to consider when designing your comp plan.