To help alleviate confusion and cut through some of the vendor-driven hype, we recently conducted a webinar called, "Making Sense of Sales Technology."
The live session ran well over 90 minutes because we had so much ground to cover—exploring the pros and cons of the primary types of sales technologies, walking through a diagnostic tree for making meaningful tech decisions, highlighting a number of underutilized evaluation criteria, busting a number of technology myths that tend to lead people astray, etc.
Along the way, we also talked about three major dynamics or trends that all seem to be coming together right now:
More companies are now willing and able to invest in improving their sales operations and developing their sales capabilities. As many companies have become more optimistic about the state of the economy, they're loosening the purse strings a bit and looking for ways to enhance their company's ability to capitalize on the anticipated growth opportunities.
As the competition for good candidates has increased dramatically, adding Sales Ops headcount has become even more difficult. While it's never been particularly easy to find and hire people into Sales Ops, as more companies are now establishing Sales Operations functions where none have existed before, the increased demand has exacerbated the issues.
Through innovation and competition, very sophisticated sales technologies have become much more affordable and accessible. Today, even the most advanced, AI-driven sales optimization solutions are available "as a service," readily integrated with existing systems, paid for on a subscription basis, and at fraction of what they would have cost just five years ago.
Taking these dynamics into consideration, we believe the time is right for Sales Ops to push for the technologies that will take their company's sales capabilities and infrastructure to the next level.
The desire for enhanced selling capabilities is there. The appetite for investment is there. The technologies available have never been more capable and affordable. And even if "throwing bodies" at the situation was a great solution…which it is not…the hiring dynamics are such that it's a bit of non-starter.
This state of affairs virtually screams, "Technology!"
So at a minimum, we're encouraging our subscribers to investigate. Review the webinars highlighted below to better understand the types of sales problems that are being addressed with technology. Think hard about your situation and your strategic priorities. Question your assumptions and preconceived notions about how best to get to that next level. Just give it some serious consideration.
In the end, you may or may not decide that it's time to strike…but the iron is hot, so you at least need to think about it.
Making Sense of Sales Technology
It's hard to make sense of the various sales technologies that are available today. How are they different? Do the differences actually matter? What do we need? How do we choose?
Predictive Sales Analytics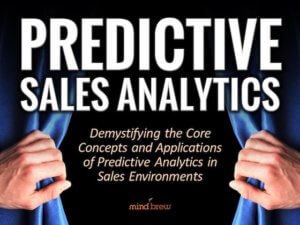 Predictive sales analytics has proven to be a powerful tool for improving effectiveness and boosting results at-scale. In this on-demand webinar, we demystify the core concepts and applications in sales environments.
Driving Sales Effectiveness with Strategic CRM
Are you really getting everything you should from your CRM system? Do you even know what's possible? In this four-part training session replay, learn what leading sales operations are doing differently to drive significant sales results, with far less resistance from the field.