If you're a regular reader of business management books and articles, you've probably come across the statement, "You get what you inspect, not what you expect." In fact, so many different business gurus have repeated this saying that it's hard to tell exactly who said it first.
It's easy to see how this advice applies to supervisory situations, especially the military, where drill sergeants love it. The people in charge need to not only tell their teams what they want them to do but also to follow up to see if they actually accomplished the assigned tasks.
But the need for inspection also applies to some cross-functional relationships, including the relationship between sales operations and sales.
Because sales operations has such an intimate view of the sales data, we are in a unique position of being able to provide some accountability to the sales team. Of course, taking on this type of role carries the risk of adding tension to the relationship between the two groups. With the right processes in place, however, you can maintain a positive relationship while also helping the organization meet its goals. We recommend that your "inspection" processes include the following four characteristics:
Establish clear expectations. It just isn't right to hold someone to a standard that they don't know exists. From the outset, you need to let the sales team know what you will be measuring and if they will be responsible for meeting any targets or quotas. These might include goals around specific accounts, pricing performance, cross-sell and upsell, etc.
Regular performance monitoring. Once you've told everyone that you will be checking up on them, you need to actually check up on them. One of the best ways to do this is with real-time dashboards that everyone can see. It might also involve reviewing pipeline reports, monitoring sales activity levels, and evaluating individual and team performance metrics on a weekly, monthly, or quarterly basis.
Providing timely feedback. After you've done the inspecting, let everyone know what you found, whether it was positive or negative. Highlight successes as well as opportunities to learn lessons and do better in the future. By discussing performance openly, you can foster a culture of continuous improvement and ensure that team members feel accountable for their results.
Encouraging personal accountability. Salespeople tend to be naturally competitive. Reports that highlight which individuals or teams are performing best can inspire others to improve their performance. Encouraging team members to take ownership of their own results can empower the team and improve overall performance.
SellingBrew has several resources that talk about the power of monitoring performance metrics. Two of the best are Delivering No-Brainer Sales Guidance and Moving the 'Meaty Middle'.
Delivering No-Brainer Sales Guidance offers more details around how to provide timely feedback to the sales team. It explains how and where to provide that feedback in order to maximize effectiveness, and it show how to reinforce your conclusions in a way that leaves little room for second-guessing or misinterpretation.
Moving the Meaty Middle explains why it's important to concentrate on improving the performance of your middle-of-the-road salespeople, rather than focusing on those at either end of the spectrum. It also offers strategies and tactics for harnessing the power of metrics to provide those team members with the encouragement and guidance they need to improve.
You can expect results all you want, but unless you actually inspect performance, you are unlikely to achieve your goals. Through monitoring and careful feedback, however, sales ops can encourage the sales team to improve.
Delivering No-Brainer Sales Guidance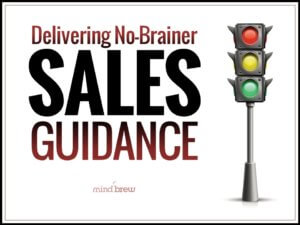 Equipping the sales team with relevant, data-driven guidance is a priority for many Sales Ops groups. In this on-demand webinar, learn the key ingredients for delivering guidance your reps will actually use.
Moving the "Meaty Middle"
The primary focus for Sales Ops should be on improving the performance of the middle-of-the-road salespeople who comprise the majority of the team. In this on-demand webinar, learn why it's so important and how to make it happen.