It goes without saying that these are some very odd times that we're in. Both our business lives and personal lives are having to comprehend and deal with the drastic changes of the past few weeks. Our daily routines have been upended with many of us adapting to work from home and finding new ways to connect with our colleagues.
I'd wager that few, if any of us, would have had the foresight to anticipate the exact reality of where things stand now. And I'd also wager that being able to accurately forecast the next few weeks and months is equally as challenging. And while so much is uncertain right now, we have a responsibility to do our best to manage that uncertainty.
Those of us in Sales Ops are in a unique position at a time like this. The skills and traits that make us effective in our roles are great assets at helping to understand the various scenarios that may play out and chart the course forward. Here are 5 traits that come to mind:
Big Picture Perspective
Great sales ops teams recognize that there are many parts of the equation and they're often able to understand the variety of resources, departments and market dynamics that come into play.
Diagnostic Thinking
Effective sales ops teams have the ability to investigate, identify, and fully understand underlying issues and root-causes. As companies map out responses and next steps right now, these skills are vitally important.
Scenario Analysis
The ability to estimate likely outcomes and determine the potential ramifications of various actions can be a godsend at times like these.
Data Visualization
Data visualization techniques become more important now to not only aid in presenting scenarios and investigative processes, but also in helping others better understand and interpret what the data is saying.
Problem Solving
Good sales ops professionals can identify potential problems before they occur. And great sales ops professionals are also able to devise and test a variety of solutions to those problems to help stave them off.
Those are just 5 of dozens of skills that those of us in Sales ops have that are almost universally helpful at a time like this. If you're not doing it already, now's a great time to look around and see where you can put those skills to work—whether it's in sales ops or helping out in another tangential area of the company.
These are very odd times that we're in, but they're also a great opportunity to find new ways to put your skills, knowledge and expertise to use.
Taking Your Sales Operation to the Next Level
It's common for sales operations to get mired in tactical sales support and administrative activities. This four-part recorded training session reveals the steps leading sales operations teams are taking to transform themselves into a much more proactive and strategic business function.
The Anatomy of a Successful B2B Sales Analyst
What key competencies are most important for a sales analyst to have? This guide covers SellingBrew's research into the 21 most important attributes, skills, and capabilities for sales analysts to develop or possess.
Advancing Your Career in Sales Operations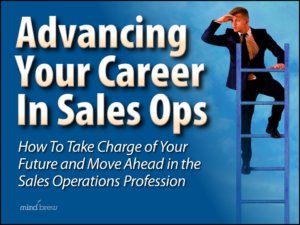 There's never been a better time to be working in Sales Operations. But you can't just sit back and hope that good things will happen. In this on-demand webinar, learn strategies and tactics for Sales Ops career development.