In pulling together the feedback and research for the SellingBrew Playbook guide, "How to Improve Your Sales Pipeline Analysis," I was struck by balance of pragmatism and power in the twelve strategies covered in the guide.
For example, one strategy talks about enhancing performance by taking steps to proactively rig the deals in your sales pipeline.
The strategy highlights how too many sales operations still view the contents of their pipeline as being largely out of their control. To these organizations, sales opportunities seemingly fall from the sky and there's nothing they can do about the nature of the deals they're working. The opportunities "are what they are" and the organization just has to make the best of them.
Of course, the strategy calls "bull" on this perspective, recommending that your pipeline analysis efforts be aimed at understanding which deals are most advantageous, and then taking steps to attract more deals that look just like them.
Through your pipeline analysis, you ask and answer three questions:
Which deals have the best front-to-back performance? Here you want to stratify your pipeline by throughput and profitability to isolate the deals that have better than average close-rates, faster time-to-conversion, and greater net profitability.
What factors do these more advantageous deals have in common? Here you'll look for common elements that are unique to these better-performing deals. Are they for a particular product or solution? Are they from a certain industry or with a particular type of customer?
How do we fill our pipeline with these more advantageous deals? Once you understand some of the common factors or deal attributes that lead to better performance, you use them as targeting criteria for your broader marketing, lead generation, and prospecting efforts.
As you can see, this isn't a complicated strategy. It's something that most sales operations have the wherewithal to figure out. Nonetheless, as pragmatic and powerful as this strategy may be, it's one that many organizations miss.
And even if your operation does happen to have this particular strategy nailed, guess what? There are eleven more strategies to test your mettle.
How to Improve Your Sales Pipeline Analysis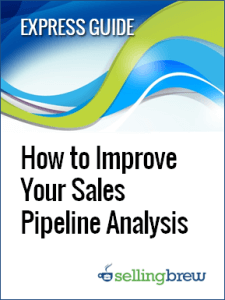 Pipeline analytics is great for reporting on current performance, but it can do so much more. This guide outlines 12 strategies for improving deal probability, velocity and value across every salesperson in your sales operation.